Personal Injury Legal Services
Hamel, Waxler, Allen & Collins, P.C. gives you a lawyer on your side that has:
The experience to know what to expect
The insight to understand the intricacies of your case
The tenacity to fight for your interests
The empathy to provide real understanding and counsel
The resources to take on even the largest companies
A history of proven results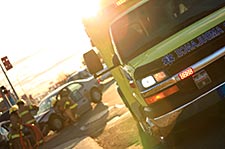 Hamel, Waxler, Allen & Collins, P.C. prides itself on our reputation as knowledgeable, skilled personal injury attorneys known for outstanding results; our relationship with our clients and our responsiveness to their individual needs and considerations, and those of our community, fostering confidence and a mutual respect; and our impressive resources to litigate your case properly, both financial and personnel, with our staff of legal and paraprofessionals.
If you have a complex, serious personal injury matter, you need a law firm of highly reputable personal injury, product liability and/or Workers' Compensation lawyers, who value relationships and who pride themselves on providing excellent service in a responsive, ethical, professional manner that gets results. The personal injury attorneys at Hamel, Waxler, Allen & Collins, P.C. can successfully litigate your serious injury claim with outstanding results that compensate you for your pain and suffering, lost wages and medical expenses!
After all, when you enter civil litigation for a serious personal injury, you know that you will face well-organized, financially fortified lawyers representing the defendant. Make sure your rights are protected by one of the experienced personal injury attorneys at Hamel, Waxler, Allen & Collins, P.C., the firm with the legal savvy and financial resources necessary to litigate your case to its greatest possible outcome.
Automobile Accidents
When a person is injured in an automobile accident, the first concern is who will pay for lost wages and medical bills while they are out. Let us see to it that your bills are paid and that you are reimbursed for your lost wages.
As our commitment to you, there is no charge for this service. This is a primary focus for our staff, who spend a great deal of time ensuring that clients are reimbursed. Having provided these services since 1981, our staff is well-trained and skilled in handling these types of claims.
Our skilled staff of attorneys have successfully handled thousands of claims against insurance companies, always making sure that our clients are fully compensated for their injuries.
Workers' Compensation
Our workers' compensation attorneys have protected the legal rights of thousands of injured workers. Workers' compensation laws vary from state to state.
Workers' compensation benefits may include payment of lost wages, medical expenses, scarring and disfigurement, loss of function and vocational rehabilitation services.
Our expert attorneys will handle all aspects of your workers' compensation case to assure you receive the benefits to which you are entitled.
Wrongful Death
Wrongful death claims are complicated and require a tremendous amount of preparation and investigation. The negligent conduct of the defendant must be proven to have caused or contributed to the victim's death.
Trust our experienced trial lawyers to handle your case with thorough preparation, skill and sensitivity in your wrongful death lawsuit.

Contact us for more information or to schedule an appointment for a free initial consultation regarding your claim.